Our guest this week is Dr. Daisy. She is a Doctor of Chiropractic, Freelance Writer, Content Writer, Health/Wellness expert, home-school mom to 5. She shares some benefits to breastfeeding.
Breastfeeding has a profound impact on the health of the baby as well as the mother. Did you know that it is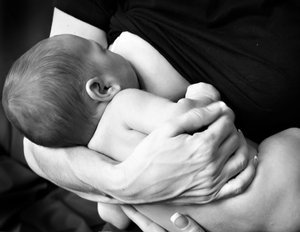 recommended that a child breastfeed for at least 6 months following birth? Breast milk should be the exclusive form of nutrition for at least the first 4 months and this evidence is supported by scientific evidence.
Below is just a small list of benefits both the infant and mother will have from breastfeeding.
Infection Inhibitor – when you compare a newborn that is fed formula or milk to one that is breast fed, the breast fed infants are less likely to suffer from infections. Some of these infections may include diarrhea, gastrointestinal infections, respiratory tract infections, middle ear infections and urinary tract infections.
Allergy Antagonist – infants that are exclusively breast fed the first 4 months are less likely to develop allergies and asthma during their first 6 years of life, this is according to a report that was presented in April 1999 at American Lung Assoc Conference in San Diego.
Heart Aid – breastfeeding offers potent heart healthy benefits to both the mommy and the baby.
Actually breastfeeding can slash the risk of high blood pressure. The hormone in the mom called oxytocin lowers the blood pressure in the mom who breast feeds. The baby also enjoys the reduced risk of high blood pressure later in life.
Brain Booster – Did you know that premature infants who are breast fed score higher on IQ tests during their pre-adolescent years…when compared to premature infants who aren't breast fed? Ongoing research indicates that the brain-boosting effects of breast milk may also apply to infants who are carried full-term. Now the scientists are unsure whether this benefit is a result of nutritional or social factors, but the fact remains that breastfeeding your little one may make him or her smarter!
SIDS Preventer – The latest research is suggesting that breastfeeding may protect newborns form Sudden Infant Death Syndrome (SIDS). Although the nature of this condition is still yet undetermined, one possible explanation involves toxins manufactured by bacteria. Breast milk contains antibodies that bind to these toxins, stopping the chain reactions that may precipitate sudden death.
Cancer Risk Reducer – Infants who breastfeed are less likely to develop leukemia. Amazing!! Researchers looked at 2,200 children with acute leukemia and 2,417 cancer-free control subjects, aged one to 17 years. The children who were breastfed for at least one month enjoyed 21% reduced risk of leukemia, compared to those who breastfed for less than one month or not at all. Researchers then looked at children that were breastfed for more than 6-months and the reduction in risk jumped to 30%. (Journal of the National Cancer Institute 1999) Breastfeeding not only prevents cancer in children but it may also protect mothers from malignancy. It is believed that women who breastfeed are less likely to develop breast cancer compared to those who never breast fed.

DrMommy offers so much knowledge and insight, please visit her at:
Dr. Mommy Writes
Dr. Mommy Health Tips
Dr. Mommy Chronicles
Supporting Studies:Cancer – listed in Journal of the National Cancer Institute, 1999;20:1765-72 Researchers were part of International Journal of Epidemiology SIDS – listed in FEMS Immunol. Med. Microbiol 1999; 25: 175-82Heart Aid – research came from Pediatric Research 1996; 40:627-32